To make sure that Lanmodo
car top tent
meet necessary requirements for customization, it is designed with multi-functionality. The multi-function feature of this innovative
car roof top tent
is among the things that made it the top tent built for car in 2017. It is designed with features that made it easy to transform it into camping tent, beach tent and others. That is among the reasons you should make sure that you grab this car tent for your summer outing with family and friends. You will also learn more about the multi-functionality of this car tent through the content of this post.
Easy Setup On Top Of A Car As Tent
You are not going to pass through any form of stress to set up this
tent on top of car
as it is built with lots of features that made the setup easy and simple. One of the features that attributed to easy setup and folding of this
rooftop car tent
is the remote control. Just with a press on the remote control you will have the umbrella open to offer your car good coverage. Another ease of use feature of this
Lanmodo
car tent is the portability. It is quite portable and can easily fit into the trunk of your car. To enhance the portability of this car tent, the size is another point to reckon with. The portable size of this
top of car tent
is among the reasons people are going for it. No need to worry about heavy canopies when you have this car tent as it is built with lightweight materials. Even if you do not put it inside your car, you can even carry the folded tent around without any form of discomfort or overwhelming weight. You can see the reason you should go for this car tent without wasting another minute.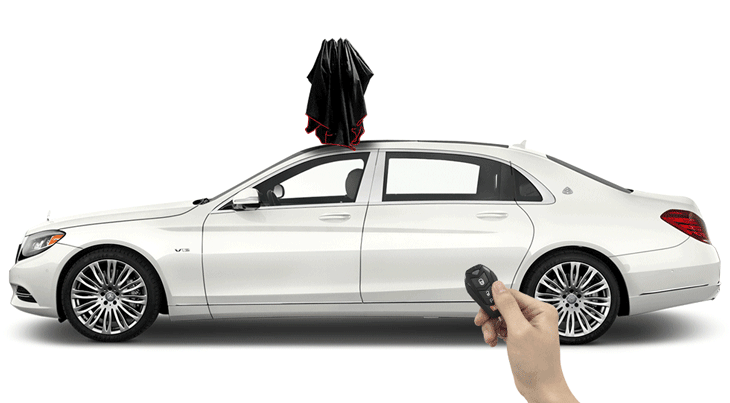 Converts From Tent For Car Tent To Outdoor Tent
The multi-functionality ofLanmodo
car rooftop tent
is another reason you need to go for it. Even as it is built mainly for protection of cars from hot summer, it can also be used for several other functions. In fact, this innovative tent, is designed in such a way that it can be usable not just by car owners but also by those that want to enjoy great outdoor time. It is among the best option you need to consider going for your outdoor camping with friends and families. That means when you buy this
roof top tent car
, you can convert it into other uses. Carry your family to the beach and convert the canopy into a good outdoor tent. The aesthetic look is among the things that made it the best among other car tents in 2017. It is beautifully designed and well organized to make your outdoor activities more exciting and amazing. You are also going to stand chance of enjoying convenient and comfort while under the coverage of this amazingly built
tent for top of car
. These are among the things that made Lanmodo one of the leading
car top tent manufacturers
in the world. So, you should hurry and grab yours now to follow among those that will enjoy what the car tent is made of.

Transforms Into Camping Tent For Great Outdoor Experience
Are you planning to embark on outdoor activity like camping and others this summer? Do you want to make your outdoor camping more interesting, colorful and remarkable? If yes then, you should consider buying roof top car tent made by Lanmodo for your cover. This is an innovative car tent that transforms easily to a camping tent. In that regard, you stand chance of improving your convenience, comfort, and even and protection hot summer when you make use of this camping tents. The truth is that you are the one to decide on the thing you want to use this car tent for and how you want to use it.
There are more other reasons you should go for this well designed car umbrella made by leading car tent manufacturer. You do not need any formal tutorial to learn how to use this car umbrella as everything is just explained in details in the manual. Just open the package and take some time to read through the enclosed manual and you will understand how to make use of the car tent for any need without stress. The manufacturer of this car tent, Lanmodo is quality oriented and always producing their product with enhanced innovation. That is part of the reasons the innovative car top rent offered her is just the best you can find anywhere in the industry. The price is also cost effective when compared with the quality, innovation and multi-function feature of the Lanmodo car tent.