Just the way women love to decorate their house to make it look sophisticated, up-to-date, and to get compliments from visitors. In a similar manner, men enjoy upgrading their cars by purchasing different car accessories which either boosts the overall performance or enhances the car's appearance. Moreover, accessorizing your car, especially the one which is not a luxury one, will improve the functionality, safety, and comfort as well. Therefore, if you are browsing the internet to identify which car accessories you should invest in, then you are in the right place! Here we will talk about the Top 7 car accessories you should invest this year.
Top 7 Premium front & backseat car organizer
Organize your car and make it look cleaner by getting your hands on the Premium front and backseat car organizer. This car seat organizer comprises many compartments and pouches that will help you to hold drinks, water bottles and assemble things together in a single place in a very organized manner; no need to find things under the seat or mats, no more drink spills. So if you are in a habit to go on a long drive along with your family or friends, then this foldable car seat organizer that comes with two ergonomic handles for easy portability and securer grip is the product you need to consider purchasing.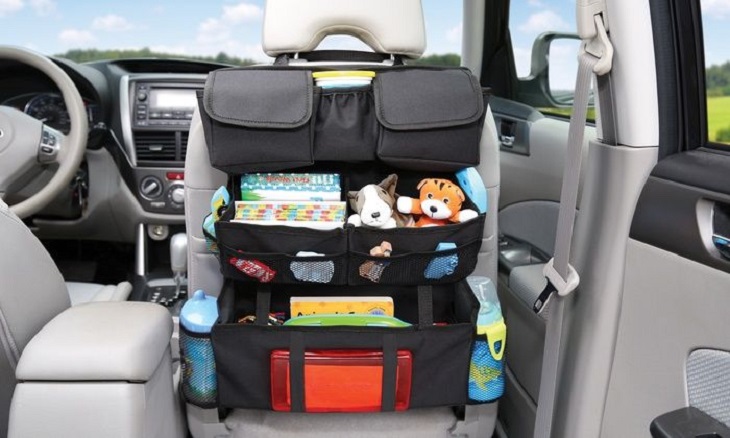 Top 6 FIXD OBD2 professional bluetooth scan tool & code reader
The FIXD OBD2 professional bluetooth scan tool and code reader will switch your car into a smart one by sending diagnostics information about your car to your smartphone. However, this device is only compatible with cars that consist of an OBD-II port. The device helps to understand how worse the problem is when the engine light shows up. With each problem detected, helpful videos and resources are provided to help the user fix them. This easy to install device alerts the driver when your car would require maintenance. Lastly, you can keep an eye on your family members' vehicles by simply connecting your smartphone to their FIXD.
Top 5 Clore automotive Jump-N-Carry
On a highway with no mechanic shop nearby and your car's battery has drained out. If you are ever stuck in such a situation Clore automotive Jump-N-Carry is the superlative jump starter that you can easily carry in your car along with you! Get your battery charged and check the status of your battery by simply pressing a button with this ultimate device that consists of a built-in automatic charger. Once you have this device, you no longer need to look out for a car to charge your car's battery. Along with 1700 Peak Amps and 425 Cranking Amps, the Jump-N-Carry comes with replaceable excellent Clore Proformer Batteries. Moreover, the exterior and interior of this device can not be easily corroded, thanks to the Industrial Grade Hot Jaw Clamps.
Top 4 Spill-proof car trash can
A pleasant interior will always keep your car comfortable and pleasing for you as well as passengers. Hence, it is essential to acquire a spill-proof car trash can that has the capacity to hold 2.5 gallons of trash. The adjustable straps make it simple to install this trash can anywhere in your car. When the trash can gets full, simply lift the lid and remove the liner. The product is manufactured using waterproof oxford PVC, enabling users to clean the trash liner once empty. Plus, the additional hooks enable the user to attach the disposable bags in the trash can without any hassle.
Top 3 ThisWorx for TWC-01 car vacuum
Want to spend the least on maintenance and service of your car, then invest in getting a ThisWorx for TWC-01 car vacuum. This car vacuum will significantly assist you in picking up food crumbs, dirt, and debris from places that are completely out of your reach. Not only dry objects are removed but it works perfectly to eliminate wet substances, ashtray, germs, bacteria, and other allergens. It comes with a 16 feet long power cable which is large enough to skillfully clean even the large SUVs. The car vacuum comes along with a washable HEPA filter, making it an effortless task to maintain the car vacuum.
Top 2 Lanmodo four-season car tent
Keep the exterior of your car new and shiny throughout the year by purchasing the outstanding Lanmodo four-season car tent which is big enough to be installed in nearly all the vehicles. It is one of the most user-oriented products which helps to prevent the UV rays from entering into the car. The car tent is manufactured using sun-proof 3-layer PU silver coated Oxford cloth. Most significantly, it does not only protect your car from the heat and harmful rays but also reduces car temperature up to 97°F / 36°C. The customizable car tent consists of Triple Anti-theft design for added security and protection
Top 1 Lanmodo Vast Pro color night vision system
At night the ability of a driver to perceive the road ahead decreases significantly, increasing the chances of dreadful accidents. To improve your driving safety it is highly recommended to acquire a reputable night vision system, like the Lanmodo Vast Pro which has gained immense attention from people all over the world due to its excellent performance, affordability, and ability to be installed in nearly 99% of the car models. This device broadens the driver's perception by permitting them to view the road ahead for up to 300 meters, making the driver aware of any upcoming pedestrians, cyclists, animals, and other potential hazards. Not only this but it provides the driver with 1080HD, full color, like-like images even in low light conditions. A 45-degree wide-angle vision further extends the driver's ability to see the road. Lastly, this incredibly amazing device will help to clearly see the road in snowy, rainy, and foggy weather conditions.

So what are you waiting for? Grab these car accessories now!