Everything in the world today is improving and there are plenty of developments in the society that keep increasing by the day. That is why roads are expanding each passing day. Consequently, the manufacturers of cars also increase their process to provide more cars for people to maneuver with on these roads. It is one thing to own a car as many people do, but it is rare to have a luxury car for your endeavors. Therefore, it is important to know the difference as well as the advantages. We are discussing a few of the luxury cars we have on the market that come with their own night vision systems.
2016 Audi A6
This is one of the most upgraded models of Audi in the A6 series. There are noticeable and cutting-edge upgrades on the dashboard electronics. First off, there is an impressive upgrade from 3G to 4G built-in data connectivity, a much faster Nvidia processor and a night vision system among others. We are focusing on Audi's night vision, a great feature with impressive performance. It is located between tachometer and speedometer on the dashboard. This system detects road users between 50 to 300 feet. The night vision assistant allows you as the driver to avoid collision and accidents as you are prepared from a distance. This aids in improving your driving awareness as you drive at night.


2017 BMW 7-Series
Looking at the BMW 7-series at a glance, it doesn't seem to portray significant upgrades from the previous models. But a closer look reveals a lot on how this model has improved. Since the heated seats are becoming old-fashioned with BMW, this model goes a notch higher by including heated armrests, both front, and rear. That is not the only impressive feature, there is a well-advanced interface with excellent technology that aids in your driving. For instance, there is a night vision system to allow pedestrian detection with much ease. Located at the center dashboard screen, the night vision is readily available for use. It detects a pedestrian or an animal at night from a distance.
2016 Cadillac CT6
Cadillac DeVille 2000 was the first car in the series with a night vision system. During those days, the system only used a passive infrared sensor camera on the car's grille. Here, it only perceived ultraviolet radiation which was administered by the system's computer to display the image on the windshield. It used a head-up display to relay a black and white image. Seeing that it wasn't as advanced then, they discontinued the night vision. Today, the 2016 Cadillac CT6 comes with this system and is way improved than the last. It utilizes an infrared camera that is mounted on the corner grille and detects any obstacle through heat signals. The images are then displayed on the Driver's Information Center.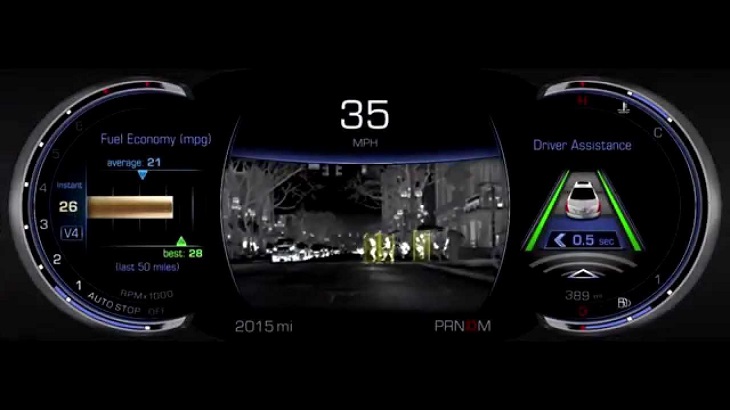 2016 Mercedes-Benz S-Class
If you are looking for a luxury vehicle that packs impressive modern car technology, then the 2016 Mercedes-Benz S-Class is the way to go. Apart from perfect engineering, the vehicle features excellent and most advanced active safety features. These features provide both driving safety and comfort for the driver and passengers. One of the best so far is the Night Vision system included. It becomes difficult maneuvering in dark or poorly lit roads and this could often lead to collisions. That is why the Mercedes Benz Night View Assist is an important feature in this car. It detects an object on the road and displays an image on the tool cluster. This system will also show you exactly where the object is to prepare you on your course of action while nearing it.
These cars and other luxury cars have one thing in common, they include driving assistant systems as part of their features. This aids in providing safety while driving. Since they come with their own night vision systems, they can be very expensive that most people can't afford. This is mainly because the manufacturers go the extra mile to use advanced technology on the vehicles. But that doesn't mean you can't invest in a night vision system for your common car. Lanmodo is one of the companies that provide the best external night vision systems on the market today. There is a Lanmodo Vast Pro car night vision device that you can easily set up on the dashboard or on the windshield. It displays a full-color image on the IPS screen and uses 1080p resolution to deliver much clearer images on dark roads. It allows you to see up to 300 meters ahead to detect possible objects on your way. What's more, you can get it with affordable price.