Driving in Canada on the icy roads with a temperature hovering around -20°C can be a really scary experience. Driving on such a secluded highway at night may cause much more danger. Winter driving in Canada can be quite threatening as road conditions don't change with an alert. Therefore, you ought to prepare yourself for the worst of the situations, which is absolutely crucial. So, here are a few tips to ease your driving in Canada.
1. Get your vehicle ready for winter
You would not surely like to be struck on halfway because of car breakdown, so before heading out on the road, give a rough check of the car engine, heater and brake. And ensure to clean the car exterior if any snow accumulates.


2. Prepare your survival kit
Prepare your survival kit with all the things that you need on a regular basis. You never know when you would need them. Thus, include items such as gloves, booster cables, a small shovel, windshield wiper fluid, safety vest, water bottles, first aid kit, torch, candles, and non-perishable energy foods in your kit. Also, add warm garments in your supply.
3. Defrost your windows
When you are driving, the most significant factor is visibility. Hence, you should shed off the snow from your windows, mirrors, lights and the roof as well. Make sure that foggy windows don't get into your way of driving.
4. Use a safe driving assistant
In a winter night when visibility becomes a crisis, a Lanmodo safe driving assistant with 1080P night vision quality. Its 36° vision angle and a greater view distance is indeed very helpful, particularly when in a rainy or foggy environment. It detects pedestrian, animals, or other objects quite efficiently, even if they are hundreds of feet away. A driving assistant can be of great use to avoid collision because it can offer a much clearer view.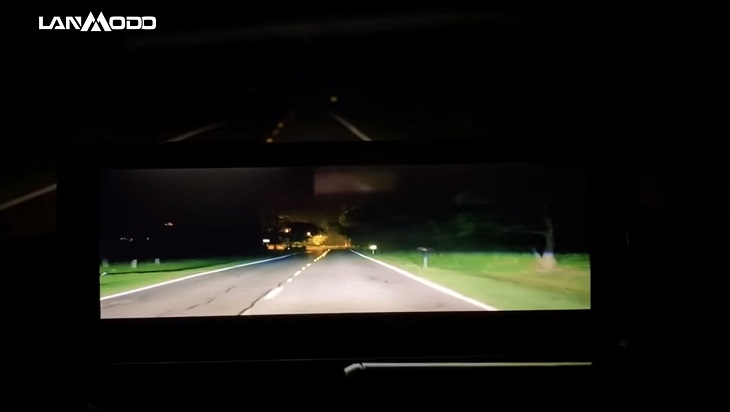 5. Keep a safe distance
If you see a snow plough, keep a safe distance from it. It restricts your visibility, and you get prone to accidents. This might seem invisible to the naked eyes, but it is actually important to take a note of it. Also, leave sufficient distance between you and the vehicle ahead of you, particularly when you put a brake.
6. Keep a full gas tank
One of the most important things that you must take care of is to keep a full gas tank. This ensures the fuel system to have lesser moisture as well as add extra weight to your vehicle while slowing down.
7. Change to winter tires
Winter tires offer you better traction, handling and braking. Thus, your braking distance decreased by 25%. Drivers would probably know that the winter tires aren't the same as the ones used during all the seasons, which tend to lose their grip as the temperature reduces below 7° C.


8. Check weather and road conditions
A constant update about the roadways and weather forecast will help you remain alert as well as you know what to expect much before you actually hit the door. Thus, you don't get into unforeseen experiences unexpectedly.
9. Decelerate and accelerate slowly
The icy and snowy road is really slippery and easily result to accidents. Whether you want to decelerate or accelerate, putting your feet gradually, try gaining the control.
10. Wear comfortable clothes
Most people usually have a tendency to layer up themselves with too many clothes. This, in turn, makes it uncomfortable for you to move. As a result, it gets really difficult to remain flexible while driving.
11. Do not hurry
Last but not the least, most accidents usually occur when you are in a hurry. Therefore, it is important to keep ample time in your hand before you set for a location. Understand that you should drive carefully based on the road conditions and situations that come along your way even if it needs extra time instead of relying on the timings that the GPS maps show you!