Advanced driver assist technology is not new in that market and has become more popular because it is tested to really help prevent fatalities in road accidents. Driver assist technology is also termed as advanced driver assist system (ADAS). Such technology covers a wide range, including detection system, night vision system and more, and are designed to automatically look out for dangers or risks on the road, to give you a safer travel on your vehicle.
Driver assist technology not only helps keep drivers and passengers' safe, delivering them to their destinations without getting injured, but also keep their vehicles and pedestrians out of danger, too. It helps in the task of driving, to make it comfortable and easy for you to handle, while also increasing road safety.
The most useful driver assistants
Automatic Emergency Braking System
This technology is meant to lessen the seriousness of a violent collision between two vehicles, in case of temporary failure of the driver to concentrate or judge the situation before him. It automatically applies brakes without driver input. While some braking systems can in effect prevent collisions, they are actually designed to slow the car to a point that it results in less or no damage and that occurrence of death by accident is not likely to happen.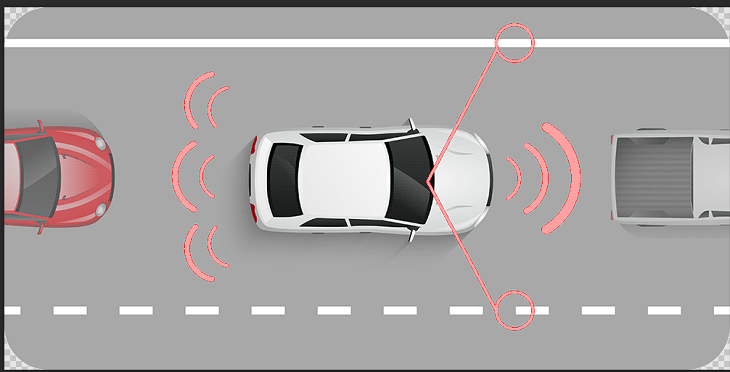 Blind Spot Warning
Blind spot warning technology is a vehicle-based sensor that detects things or other motor vehicles that are on the side and rear of the driver. It will alert you when obstacles are sensed in the blind spot. This technology is a variety of devices that detects or measures the oncoming information that you would find impossible or difficult to acquire, through any other means. Some of these systems transmit the image to the other monitor by the camera, while some give off an audible alarm, when the sensor detects an object within the blind spot.
Car Night Vision System
This system allows you to see things clearly when you drive at night. An innovative product, Lanmodo Vast Pro night vision assistant, is a driving assistant that promotes safety because it can enhance your night view of the road. With this system, you will be able to see what your eyes or your headlights cannot see.
The Lanmodo night vision assistant uses a 8-inch HD screen and offers 1080P resolution image. You can place it on your dashboard securely and not block your actual view. The camera has a fixed focal length, so it cannot zoom in or out, but you can swirl the camera to obtain best view. Its camera also provides a 45-degree wide angle vision, so you can get broad view of the road.

The image provided by Lanmodo Vast Pro night vision assistant is in full color and reflects the actual situation of the road, making you safe while driving. Lanmodo system is also helpful in driver-unfriendly situations including foggy and rainy weather. The system is very affordable, compared to the built-in products in the market and can very well lower the number of motor accidents on the way.
Adaptive Light Control
This technology switches your headlights automatically to the lower beam, as soon as it senses an oncoming motor vehicle and when the vehicle has passed, it turns the headlight back to the high beam. It can help you see further and better, when driving in the dark and in the poorly lit roads. Other types of adaptive light control technology allows the headlight to revolve or move in a circle, to light up the road way, in many circumstances.
Automated Parking
This system comes in handy if you are the type of driver who does not like to squeeze the car into a spot, even when there is plenty of room. You don't have to worry anymore, as the automated parking system will take over your task completely. It has camera on board that will find you a suitable spot, as you pass by. The system then assumes control of the braking and steering, to easily ease the car into its place.
The above products and more are developed because road safety has become the concern of all motorists all over the world. These are precautions that help to ensure the safety of every motorist and passengers, especially when they are driving at night.