Keeping your car well maintained is a duty that goes without saying. Taking good care of your car is not just a duty but an act of ownership itself. Since there are so many ways in which harm could come to a car, it is definitely a good idea to know what to expect in all the different possible scenarios. People do take care of their cars in a lot of ways but there are some things that still get left out. One of the scenarios that a lot of people get trapped in is the damage your car gets from open-air parking. In summers it is a particularly bad idea to leave your car parked in the open sun. It takes very little time for your car to become a hot oven that is at least above a hundred degrees. The result is an over-heated car that you simply cannot sit in.


All of this actually happens due to a lack of airflow and an overall greenhouse effect happening on the car. Things can go south particularly easily if you also have to face other issues related to this overheated environment. Be it damaged circuitry or the gasoline pipelines getting worn out, there are a lot of potential disasters waiting to happen as a result.
In addition to that, in case you put something inflammable or explosive in the car and the temperature rises high enough, there could be a huge potential disaster. And that is a situation that you would not want to see happen with your car. Leaving your car directly in the sun in open-air parking should therefore be avoided at all costs to avoid an over-heated car, especially if you live in a particularly hot area.
Taking Precautions
While there are several solutions to this problem, let's start with a basic one. One of the easiest and yet effective ways of keeping your car cool is to roll down your windows or sunroof slightly. This ensures ventilation of air and you can avoid having an over-heated car even if you are using open-air parking.


Since the heat from the sun can damage a lot of major components of the car, it is also a good idea to visit a car mechanic and get all your parts checked, especially ones made from rubber etc.
One of the easiest solutions to the problem being discussed here is to simply park your car in a shaded area which can provide a decent car sunshade. You may need to make some effort to find the right spot but at the end of the day it would definitely be worth it. However, this activity is not always doable and having a good and suitable alternative is definitely necessary.
Speaking of perfect solutions, if you want to avoid having an over-heated car then get a car sunshade product is reliable. One of the best options when it comes to car protection is Lanmodo. The Lanmodo portable car sunshade is an amazing product that deploys automatically with the push of a button and provides excellent quality protection for your car. It has been gauged that using this particular product can lead to a seriously big drop in the temperate of the car. The design of this portable car sunshade is that it maximizes convenience for the user and ensures that you have a car sunshade that is both effective and easy to use. The folding and light weight design has made Lanmodo car sunshade easy to carry and store around in your car. After you start using this particular car protection product then you will stop feeling the need to find a covered spot or leaving the car open and vulnerable to the weather elements.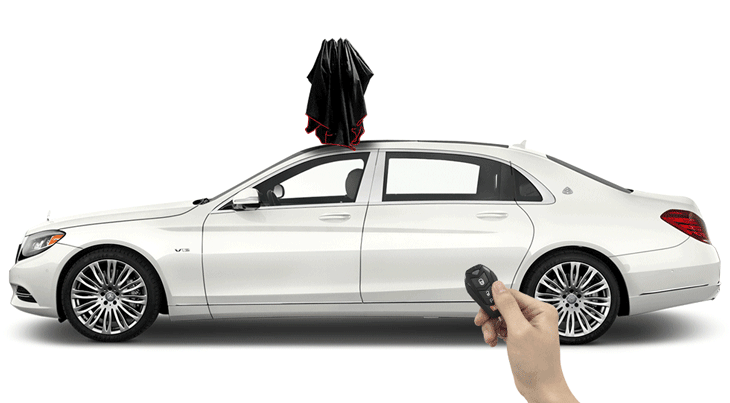 As a last piece of advice it is extremely important that you do not leave anything inside your car that can get heated easily. Having such stuff lying around in your car on a hot day can cause a lot of issues and even serious accidents if you are not careful. So make sure you follow all the advice given here and get your hands on the
Lanmodo car sunshade
immediately.