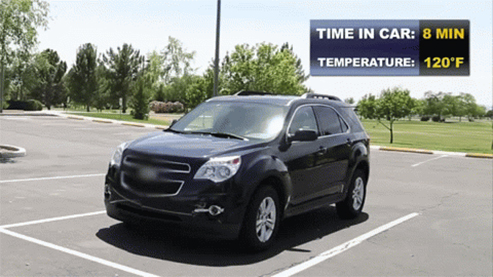 Have you ever thought of keeping your car in a cool place, outside a shining sun? It is necessary you do so, due to the unbearable heat and the effects of the hot atmospheric condition that might be having an adverse effect on your car. Let's say you have parked your car in the only available spot where it's extremely sunny in front of a supermarket. Your shopping at that supermarket is going to take you at least 30 minutes. Your car will get warm so much during that time, so that it will be agonizing to sit down and drive again. That can't be helped. Or maybe it can! What if there was a huge umbrella covering the car and protecting it from all that heat making a
funny car sun shade
? Does such a thing exist? You bet!
Using a car sun shade in summer is important due to the many reasons. For example, if you are driving your kids, a car shade will protect your children's skin and eyes from harmful UV rays. Further, such a gadget can cool down the car interior of your car, and thus save you from heat exhaustion during the hot summer days. It will save your interior from dry rotting at the same time and keep it safe. Not only that sun may cause dry rotting to your car interior but also on the tires reducing their lifespan.
What's going on under the hood of your vehicle in the superheated environment? If your car is exposed to direct solar radiation and extremely hot temperatures over a long period of time, the sun rays may cause overheating of the engine, battery, carburetor, and other important parts. While the consequences might not be visible at first, some serious damages can develop over time. For that reason, you must take certain precautions and perform them timely in order to save your vehicle lots of damages as well as to save a lot of money avoiding subsequent repairs.

So, what can you do to prevent these damages on your car? In order to protect your car against bad sun influence, you are advised to:
Check the fluid levels on a regular basis;
Regularly clean the interior of your car;
Periodic testing -- once or even better twice each summer - of your battery as well as charging system;
Park your car smart - Always look for an appropriate sun shade car. Choose a place under a broad tree to park your car instead of parking your automobile in the midst of a blazing parking lot;
Check out the air filters for dust and debris;
Use the reflectorized sun panels on both front and rear dashes;
Perform tire pressure each month;
Use a protective wax at least twice a year to protect your car's paint from scratches and sun's rays;
Apply paint protection film.
Although these precautionary measures can reduce damage on your car, they are usually not enough to provide a full protection to your automobile. Your car should be protected any time you drive in extreme temperatures, something that would shade them from the top and make some type of cool car sun shades. If you want your car to remain cool and make life better, use Lanmodo auto and semi-auto car umbrella. It is portable, affordable, quite good in summer, and easy to use.