Winter is a season that comes with a lot of unpleasantness, even for car owners. For many car owners, winter is an annoying season that brings rough times for cars. This is the period when car paints become most vulnerable to the damages. The car paint is not the only part that suffers during the winter. Every other part of the car experience distress during the season; both interior and exterior parts. Therefore, it is important that every car owner provides maximum car protection for their cars this season. Below are the various ways you can protect your car during this period that will put your mind at rest.
1. Waxing
Waxing your car is the most convenient way to protect your car paint during the winter season. Generally speaking, there are three steps in which a car can be waxed. First, clean the whole car. Second, wax the car paint. Third, polish the car paint. About a week after waxing your car paint, you will notice that the car paint is brighter, cleaner and better. It is important that you pay attention to the type of car paint protection products you choose. It needs to be chosen based on the specific conditions of your car.


2. Glazing
Glazing is a more advanced protection option when compared to waxing. There are five different procedures that are entailed in glazing your car. These include neutral cleaning; clay grinding; deep cleaning; vibrating and polishing; and dust-free polishing. The construction time for glazing takes longer than waxing. Generally, it takes between 4 to 5 hours for the whole car to seal the glance once. It is important to mention that the glaze can be sealed for half a year compared to waxing. It is recommended that you glaze the car in time for the second time in order to seal the glaze.
3. Plating Crystal
This option of car protection cover is convenient, environmental friendly and offers a lasting protection for your car. The crystal plating process is similar to waxing and requires only four simple steps which include cleaning, degreasing, smearing the crystal, and wiping the crystal. The plated crystal has the attributes of high oxidation, high hardness, high brightness, etc. which makes the car paint to be corrosion resistance, scratch resistance, high temperature resistance, and many other attributes.


4. Coating
Coating is the world's latest generation of car paint protection technology. It is based on the process of traditional polishing. The process includes using a unique spray gun to uniformly spray the coated car paint protection products on the surface of the paint. After this, a special sponge will be used to apply a liquid coating to the body of the vehicle and finally use pure cotton for the polishing. As mentioned, coating features anti-oxidation and it is wear resistance, high temperature resistance, and corrosion resistance. In addition to this, the film distribution is more even, fine, longer lasting brightness, and higher hardness.
5. Using Lanmodo Pro Car Protection Cover
Lanmodo Pro car protection cover is another way to protect your car especially when parking outdoor. It is an outdoor car protection umbrella that can shelter your car from any weather conditions such as hot sun, hail, snow, and falling objects. It is big enough to provide full cover for your car and it is available in almost all car shapes. It is portable, foldable and easy to carry and store. It features an automatic operation that makes your life easier and better. It also comes with an anti theft mechanism that protects it from unwanted intruders. In addition to these aforementioned features, the Lanmodo car cover is also multi-functional. It can be converted into a beach umbrella, picnic umbrella, and camping tent. It can also be used as an outdoor cinema where you can enjoy a nice movie with your friends. It comes with a USB port for you to plug your devices.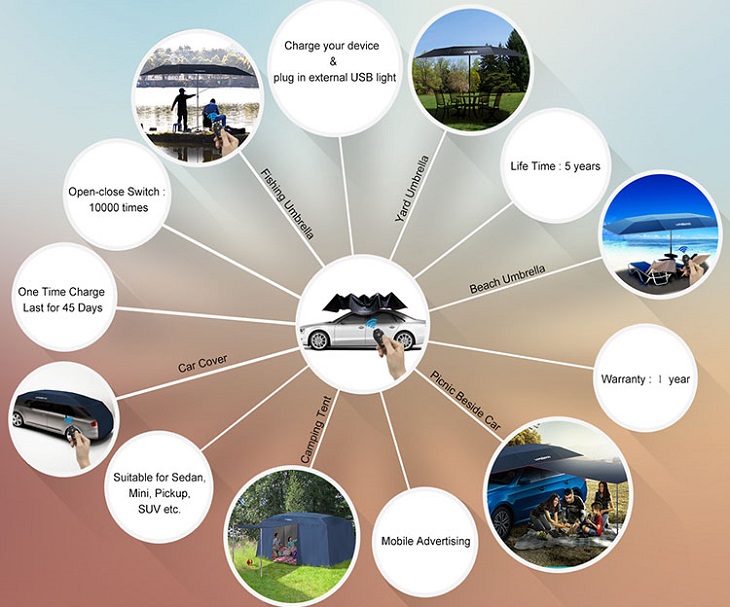 Keeping your car well protected during the winter season is very crucial to the safety and longevity of your car. The options that have been highlighted above are great ways to offer protection for the car you love. It is up to you which will be the best car paint protection product choosing for your car.