1. Why I need a Blanket bag?
I just love going to beaches for my vacations. The sea always has a calming effect on me, taking away all my stress. I like to lie down on the sand, listening to the sound of waves. But that requires a blanket. And carrying a blanket means carrying another bag apart from the existing clothes, water bottles, etc. This added to the luggage and to the exhaustion.
We have tried a few blanket bags, but they didn't fulfill the purpose. Some were good as blankets, some were good as bags. None of them fulfilled our needs. It was then that I got to know about the Lanmodo Barra Multifunctional Beach Blanket Bag.


2. Introduction to this fabulous Blanket Bag
The Lanmodo Barra Multifunctional Beach Blanket Bag has all the features to make your beach trips one of the most memorable vacations. It is a clever combination of a beach blanket and a stylish backpack.
The blanket measures 50*78 inches, making it large enough for two people. It is made of soft polyester to ensure comfort. The best part about it is that the blanket has corner pockets. These can be filled with sand to prevent the blanket from blowing off due to strong sea wind. Since the blanket is waterproof, you can easily brush the sand off the blanket later.
The bag is quite light and handy. Measuring around 240mm*370mm, it is almost like a backpack and I could easily fit a water bottle, a book and a tablet in it. It is quite fashionable and can be carried as a backpack wherever you go. It has adjustable ropes, so that it can be adjusted according to your needs. You just need to untie the knot on the rope, adjust it and then retie the knot.


Another fabulous feature of Lanmodo Barra is that it has waterproof pockets. So you can easily keep your wet clothes in it without worrying that your other things will get soaked. It is really useful as carrying a polythene bag is no longer required.
The blanket is attached with the bag with zips. So you can easily detach it and use the blanket and bag separately. Also, after you have unfolded the blanket, you can attach the bag to the blanket so that you can access the contents of the bag, while lying down on the blanket.
3. Did I like the Blanket Bag?
I absolutely loved the blanket bag. When I first took this blanket bag to the beach with my family, I must admit it was the best trip ever. It was amazing how such a small bag could not only fit a comfortable blanket but also many other things like a book, tissues and water bottle. I always had to carry a separate bag for wet clothes, and still we found our things soaked when we got home, but Lanmodo Barra beach blanket bag totally frees us of such concern.
I was quite doubtful whether the corner pockets were actually useful. But I was glad when my doubt proved wrong. I was really fascinated by the clever design and attention to detail. It was extremely easy to brush off the sand and fold the blanket into the bag.
The adjustable ropes were also very useful. Me and my family could take turns carrying the bag, adjusting the rope according to our preferences.
As if this was not enough, the blanket bag could easily be used on picnics, or for camping or hiking, it's even a perfect match with the Lanmodo car tent! I think that buying this product was one of my best decisions.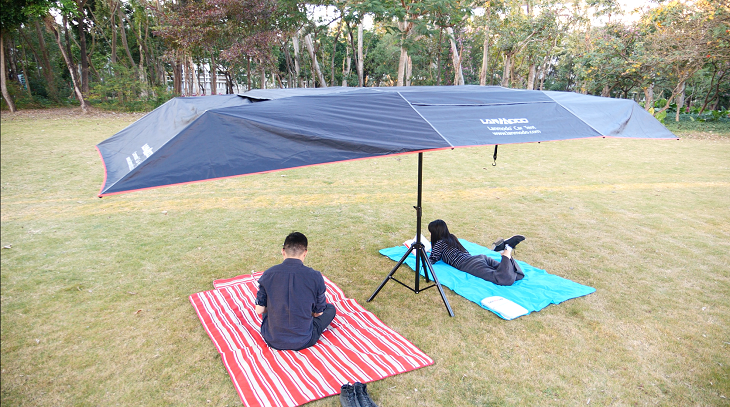 4. Comparing it with other beach bags
There are many beach blankets available in the market which can be compressed to a size that can fit into a bag. There are many beach bags available too. But this Lanmodo Barra Beach Blanket Bag smoothly combines the benefits of both these products while providing additional features to enhance the beach experience. The bag doesn't only fit the blanket but can also fit other things that you want to carry to the beach.
The small details like the adjustable rope, waterproof pockets and corner pockets takes care of minor problems that we face on beaches. These make the bag a perfect companion for all your beach trips. Other beach bags may hold more things, but once you stuff in a blanket, there's not much space left in the bag. Also, you need to carry separate bags for wet clothes. The Lanmodo beach bag eliminates this necessity with its waterproof pockets.
5. Do I recommend the product?
I have tried several beach bags, but none seemed to satisfy all my needs. Blankets were good enough but not when a strong wind was blowing. They were also difficult to carry. So I rarely recommended those to anyone. I usually refrain from recommending any product publicly, since everyone has different expectations from a product. But I can easily recommend Lanmodo Barra to you, since it is equipped with so many features that no one will ever regret purchasing it.
The Beach bag makes trips much more comfortable. It is easy to use with some unique features which make it more convenient. The blanket can be used for picnics, fishing, and even for outdoor yoga. The bag is so fashionable that students can even carry it to school.
Undoubtedly, the manufacturers have taken a lot of time to design a product to satisfy the needs of everyone. It is definitely the best Beach blanket bag of 2019.