The great outdoors. It's a year-round dream for adventures with outing ideas to zip up a tent and enjoy the scenic life in every season. Families looking for an adrenaline-filled rafting adventure or a quiet fishing trip on the lake are in for a treat, since there's a whole slew of activities waiting to be discovered.
But be prepared–every trip, whether small or large, requires some outdoor protection. An outdoor umbrella could shield you from harsh wind, sun and snow so that wherever you go, you and your family can stay safe from the elements. Here's our favorite list of outdoor ideas for every season.
Winter
In the winter, outdoor ideas range from the lighthearted to the downright perilous. Here are some of the most popular ways to spent time with your family outside.
1. Build a snowman
With your family, you can build a snowman in the winter. Make a snowman creative, with a distinct personality, can add to the fun. Encourage random objects for the face, arms and head for an exercise in hilarity.
2. Snowball fights
Kids enjoy snowball fights right in your backyard. And if you're into something more grandiose, try ice sculpting.
3. Outdoor skiing, sledding and extreme sports
As far as dangers go, skiing, sledding and ski jumping are great for families with mature kids who can handle the rigors of these sports.

Spring
Spring is one of the best times to find yourself outdoors with the people you love most. Here are a few of our favorite spring get-togethers.
1. Hiking
Take a walk in the woods with your kids and tell stories along the way. The flora and fauna they may find engrossing.
2. Camping
Camping, whether in a tent or a sturdy cabin, is still spending extended time embracing the woods.
3. Fishing
A quiet and serene sport, but making a catch is easier said than done. Come with live bait like worms from the local fishing store for the best catches.
You may need an umbrella to shield yourselves from the unexpected rain weather. Your car protection shelter,
Lanmodo
, can be used the
fishing umbrella
so that you don't need to take another umbrella with you, as it's portable and lightweight enough to carry with wherever and whenever you go.

Summer
In the summer, it's fun to swim. Here are a few ideas we love for families.
1. Paddle-boarding and water sports
For a more adventurous time, take your kids paddle-boarding on a pristine lake. Alternatively, you can take your kids surfing in a safe cove by the beach, sticking close to the shore for safety.
2. Building sandcastles
Sometimes youngsters love nothing more than to sit and play in the sand. Enjoy spending time with your kids and watching their creations form.

3. Beach camping
Enjoy the sunrise or sunset, swim in the sea, watch your kids play, and rest under the shade of a broad beach umbrella to prevent hot sun and heat in daytime. If there's a Lanmodo car canopy in your trunk, just make use of it. You can easily turn it into the umbrella to offer shelter for your child and you so that keep you safe from UV rays. It can also be converted into a camping tent for you to rest at night.
Autumn
Autumn is a time to stop and breathe. Here are some relaxing activities for the fall.
1.Taking long walks
In the autumn, it's wonderful to take long walks under the trees to see the beautiful fall colors. Pick up some fallen leaves and make leaf labels with your kids. The options are endless when you find yourself in the woods.
2.Go on a picnic
Autumn is ideal time for picnic. Take some food and water with you, and if you want a shield, you can also use your Lanmodo car canopy for shelter.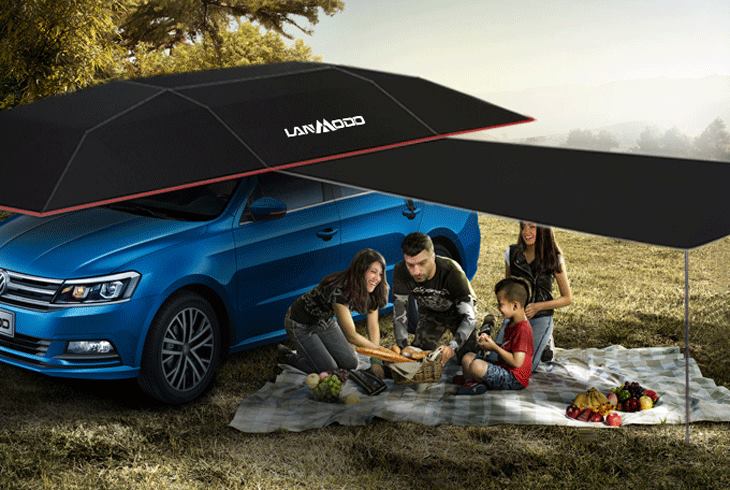 3. Ride bikes
Easy-to-do and fun for the whole family, take trips to your neighborhood park and beyond on a bike. It's a wonderful way to spend time with kids, even after a long day at work.