Lanmodo Vast Pro
The Ultimate Dual 1080P Night Vision System Integrated With Dash Camera
Launch on Indiegogo soon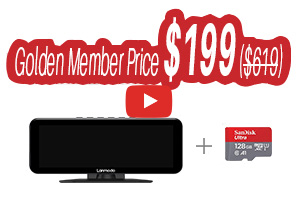 OR
Become A Golden Member
After a long time of effort and ingenuity, Lanmodo is going to release Vast Pro soon. To thank all your continued attention and support, we decided to launch this priority Golden Member.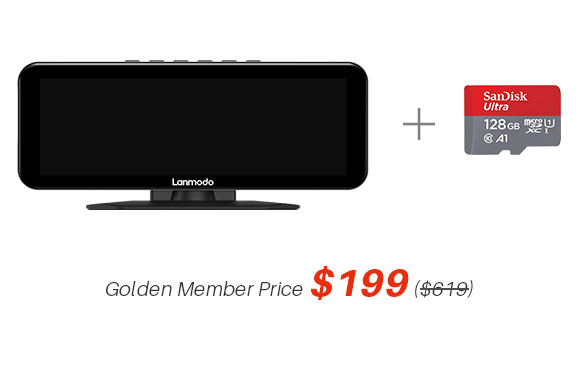 What is the Golden Member?
Spend $10 to be Golden Member to buy Lanmodo Vast Pro with a 128G TF Card for only $199 which is worth $619.
---
What the Golden Member can enjoy?
Have a lifetime privilege to save $420 for 1 unit Vast Pro with a 128G TF card.
Enjoy priority in purchasing Lanmodo Vast Pro on Indiegogo.
This $10 is refundable if you don't purchase Lanmodo products.
---
How to be a Golden Member?
Click the "Be Golden Member" button.
Place an order with $10 payment.
Get your Golden Memeber ID.
New Features & Real Test of Dual 1080P Vast Pro
As Featured On

See Through the Darkness Best Driving Companion

Dual 1080P Image in Vivid Color, Keep Safe Driving Along the Way
Using low-light imaging technology, Vast Pro will provide drivers with clear and crisp image even in darkness
High-resolution front and rear camera simultaneously capture the road view at 1080p high resolution
IPS screen presents full-color image and displays the real-time road situation with no lag

Featured with 45° Angle and 984ft Night Vision Distance, Vast Pro Makes Night Driving Easier
45-degree field of view, presents a broader view that is far beyond what your naked eyes can see
Up to 984ft (300m) night vision distance, sees much farther than headlights to inform drivers of the road situation in advance
Giving you more reaction time to avoid an accident
Keep Safe Driving in Unfriendly Conditions
Rainy days

Use it in rainy days and stop worrying about blurry vision

Dark roads

Improve visibility and safety when driving at night with Lanmodo Vast Pro

Foggy weather

See through fog to provide a clear road view and ensure smooth driving

Snowy nights

Reflect clearly the road situation on snowy nights to help drivers obtain better control

Real-time Recording of Road Situation Enhance Driving Safety
Dual recording of both the front and rear view, max support of 128G, video resolution at 1080P
Loop recording automatically overwrites the oldest recordings with the newest ones when the storage is full
G-sensor detects a sudden collision and locks the collision footage, the locked videos will be kept from being overwritten

Dash Camera with Parking Mode, More Than Road Safety
Continuous monitoring can be performed with the OBD power, which has low voltage protection to avoid draining car battery
In parking mode, both cameras will automatically start recording once the G-sensor detects collision
Capturing clear image during both days and nights to protect your vehicle
Copyright © lanmodo.com All Rights Reserved.